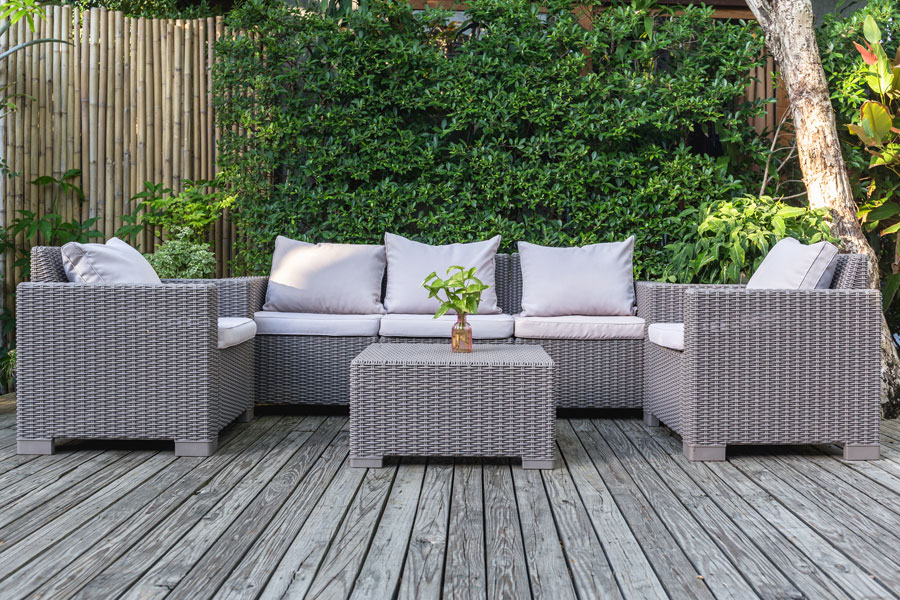 An outdoor living space serves as the perfect place to entertain guests and allows you to take advantage of the gorgeous weather and picturesque views.
By adding some key design elements, you can maximize your home's living space and make it feel like your own personal outdoor haven and the ultimate hosting spot for friends and family.
If you're searching for ideas on how to improve your outdoor living space, below are several tips:
Illuminate with exterior lighting
Make your outdoor space more inviting during evenings by adding exterior lighting.
String lights are perfect for creating a more intimate feel and are ideal for seating areas. For pathways, pathway lighting makes your outdoor area safer and more welcoming. For large sections, outdoor spotlights are the perfect solution.
Add more greenery
Adding potted plants and flowers is one of the best ways to freshen up any outdoor space.
Small potted plants and flowers serve as a bridge to the surrounding area, creating a more harmonious look. They're terrific coffee table decorations, especially on patios and decks overlooking a garden.
Incorporate all-weather outdoor furniture
Make your outdoor living room more comfortable by incorporating a couch, armchair, or chaise lounge.
Be sure to select furniture that will be able to withstand the elements. Look for seating and dining furniture made with highly durable materials like polyresin wicker, teak, and powder-coated steel if you want pieces that will last for years to come.
With the right furniture, you can transform your outdoor space into a relaxing lounge area, a cozy reading nook, or a lively living room. Consider incorporating furniture with a splash of color or an eye-catching pattern to add more character.
Install outdoor shades
Outdoor shades are the perfect addition to patios, terraces, and verandas – they'll make your outdoor living spaces more durable and more comfortable, transforming them into a true extension of your home's interiors.
Outdoor shades shield your spaces from excess heat, thus protecting your furniture and increasing comfort.
Create multiple living areas
Creating an outdoor living space with dedicated areas for eating, socializing, and relaxing is a fantastic way to help your guests feel more comfortable.
It doesn't have to be a major renovation. You can use outdoor rugs and lighting strategically, and arrange your furniture to create segments around the area that invite visitors to stay awhile.
Add some warmth
During colder months, an outdoor heater or fire pit will make your living space cozier. Draping blankets over chairs or having a basket filled with them is also a nice touch, allowing your guests to grab a blanket if they need one.
Elevate your home's outdoor living area today
Want to enhance your outdoor living area? Whether you're looking for a professional redesign for your residence or to prepare a property for investment or resale purposes, Parallèle Design offers a range of customized services to help elevate your space.
Parallèle Design is a full-service interior design and project consultancy firm part of the Parallèle Group, which streamlines the process between real estate and design.
Get in touch with the team by calling 561.446.3033 or sending an email here.